Water Heater Replacement Howard County MD Emergency Water Heater Repair Contractor
First Class Mechanical tankless water heater experts provide professional, licensed plumbers available 24/7 for emergency hot water heater service to residential homes and commercial businesses throughout Howard County Maryland. If you notice water leaking around your hot water heater or you have no hot water call us today to inspect, repair or replace your water heater. First Class has replaced water heaters in Columbia MD, Ellicott City, Clarksville, Marriottsville and all over Howard County Maryland.
Emergency Response Team Available 24/7, Weekends & Holidays
Residential Water Heater Services in Howard County MD
Commercial Water Heater Services in Howard County MD
SAME DAY Hot Water Heater Services in Howard County MD
Installation of Tankless Water Heaters
Installation of Tank Water Heaters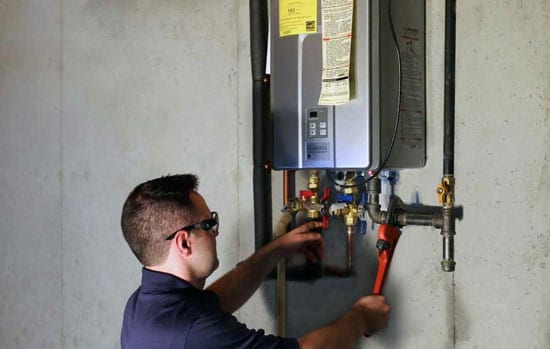 Angies List Review: DESCRIPTION OF WORK - Replace Hot Water Heater
On Saturday, I went down to the basement to get some items for a party we were having, and discovered that the water heater was leaking. I remembered that a friend had called First Class Mechanical for a plumbing problem and recommended them. I called and they were great. They asked a bunch of questions to figure out what I needed and told me when the tech would be out. Within a few hours the old water heater was gone and replaced with a brand new one. The tech was courteous friendly and efficient.
If you are searching the internet for "best water heater replacement near me", "best water heater contractor near me" or "best plumber to fix leaking water heater near me" First Class Mechanical offers 24 / 7 emergency service to all areas of Howard County Maryland including Ellicott City, Clarksville, Dayton, Fulton, Dorsey, Glenelg, Columbia, Glenwood, West Friendship, Granite, Guilford, Woodbine, Jessup, Hanover, Elkridge, North Laurel, Lisbon, Highland, Marriottsville, Savage, Scaggsville, Simpsonville, Isaacsville, Cooksville, Woodstock and all the following zip codes: 21044, 20723, 21771, 21046, 21075, 20759, 21036, 21797, 21723, 21163, 20701, 21045, 21043, 21042, 21029, 21765, 21041, 20763, 21794, 20777, 21737, 21738, 20794, 21150, 21104, 21784, 21076, and 20833.